The Trickster, The Chameleon
Erevan Ilesere
Title
The Trickster, The Chameleon
Portfolio
Intermediate god of mischief, change and rogues
Domains
Chaos, Elf, Luck, Trickery
Favored Weapon
short sword
Alignment
CN
Holy Symbol
Star with asymetric rays
Cleric Alignment

| | | |
| --- | --- | --- |
| LG | NG | CG |
| LN | N | CN |
| LE | NE | CE |
History
The elven god of mischief and rogues, Erevan Ilesere (air-eh-van illeh-seer), is an ever-changing god, always looking for some exciting new adventure or mischief to engage in. His fun-loving and prankish nature has somewhat strained his relationships with his fellow elven deities, and as a result he spends most of his time with deities who share similar mischievous outlooks. His followers are always looking for new sources of excitement and are notorious adventurers and pranksters.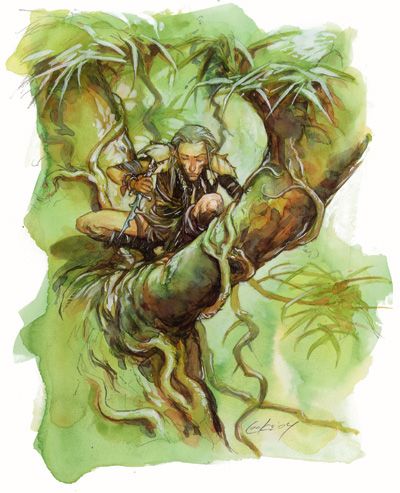 Dogma
Erevan's clerics dress in black leather armor with leather caps, and never worship him in the same place twice.
Erevan's holy days are on the eclipses, and his faithful sacrifice stolen treasures to him whenever they feel it is appropriate.
Allied and Enemy Deities
Allies
Enemies
Shrines
New Elventree (after update): in the Halls of the Seldarine
Ad blocker interference detected!
Wikia is a free-to-use site that makes money from advertising. We have a modified experience for viewers using ad blockers

Wikia is not accessible if you've made further modifications. Remove the custom ad blocker rule(s) and the page will load as expected.